---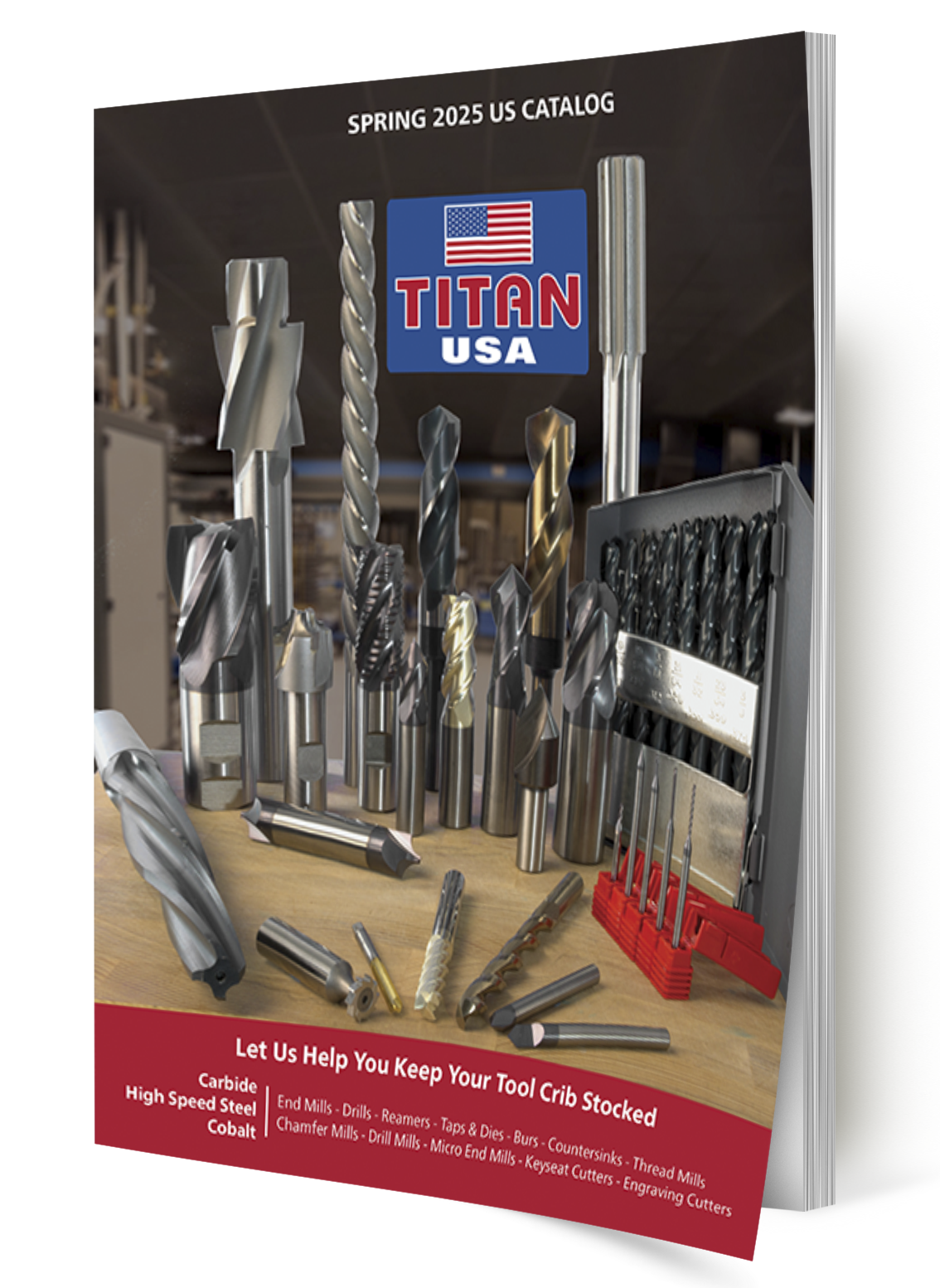 Titan USA is excited to announce the release of our new Spring 2022 Product Catalog! Featuring a redesigned look and feel, this catalog includes both new and expanded product tables. We've bolstered our popular VI-PRO® product offering, adding new 4 flute chipbreaker roughers in square and corner radius profiles; and have added new high speed steel hand taps, sold individually or in sets.
Whether your next job calls for tooling for milling, micro milling, drilling, reaming, thread milling, tapping, or deburring, Trust in Titan USA to have premium quality tools at exceptional value.
---
New Tooling Options for Spring 2022
---
4 Flute Chipbreaker VI-PRO® Variable Index End Mills
Our newest additions to our highest performance product family, these Chipbreaker VI-PRO® Variable Index End Mills are engineered with 4 flutes and are offered in square or corner radius profiles. Featuring chipbreaker geometry for optimal chip evacuation, reduced harmonics, and minimized tool pressure, these exciting new tools deliver efficient, chatter-free machining in roughing, profiling, finishing, and slotting applications up to 1x diameter.
---
8 Pitch High Speed Steel General Purpose Hand Taps
This offering of 8 Pitch Large Diameter Taps, a tool typically used in oil field, gas exploration, and power plant maintenance, is the newest addition to Titan USA's Tap selection. Shop from sizes ranging from 1-1/8" to 3", and in 4 and 6 flute styles, and use it in your machine as soon as tomorrow morning.
---
Left Hand High Speed Steel General Purpose Hand Taps
Engineered to tap left hand threads, this high speed steel offering of general purpose hand taps is offered in sizes ranging from 6-32 to 1-14, and in flute counts of 3 and 4. Shop taper, plug, and bottom styles, and add one to your "Shopping Cart" today!
---
---
---
---
---
---
---
Left High Speed Steel General Purpose Hand Tap Sets
Titan USA now fully stocks sets of Left Hand High Speed Steel General Purpose Hand Taps, allowing you to more efficiently restock your tool crib, the next time it runs low. Like all Titan USA products, our sets feature American-made tools that ship the day of their purchase.
---